Drone & Aerial Inspection Services in London
The D'Andrea Team Proudly Serves London, Chatham-Kent, Sarnia, St. Thomas, Strathroy, Plympton-Wyoming, Aylmer, Forest, Point Edward, & Surrounding Communities
Aerial inspections are included with home and commercial property inspections from Carson Dunlop The D'Andrea Team, subject to location, weather, and NAV Canada approval.
Aerial inspections in most urban areas can only be done legally by Transport Canada Advanced RPAS Pilots. Our pilots are licensed and insured. Our drones are registered with Transport Canada and have thermal imaging capabilities.
With drones, we're able to check high-pitched or unusually constructed roofs without risking inspector safety or charging you for expensive safety rigs. Many rooflines and chimneys are impossible for an inspector to safely get close enough to inspect thoroughly. We access these areas using small RPAS, which gives us live and very detailed imaging.
A drone can perform a close-up survey of the exterior of a building and deliver high-resolution video of the roof, gutters, chimneys, and more, enabling a building inspector to detect trouble spots. Obtaining good visuals of windows or exterior coverings on multi-level homes or other inaccessible areas is crucial to ensure you get the full picture of your new home. Water damage can often go undetected without an aerial view.
On new roof installations, the inspector could void the manufacturer's warranty by prematurely walking on it. With a drone, that is no longer a problem.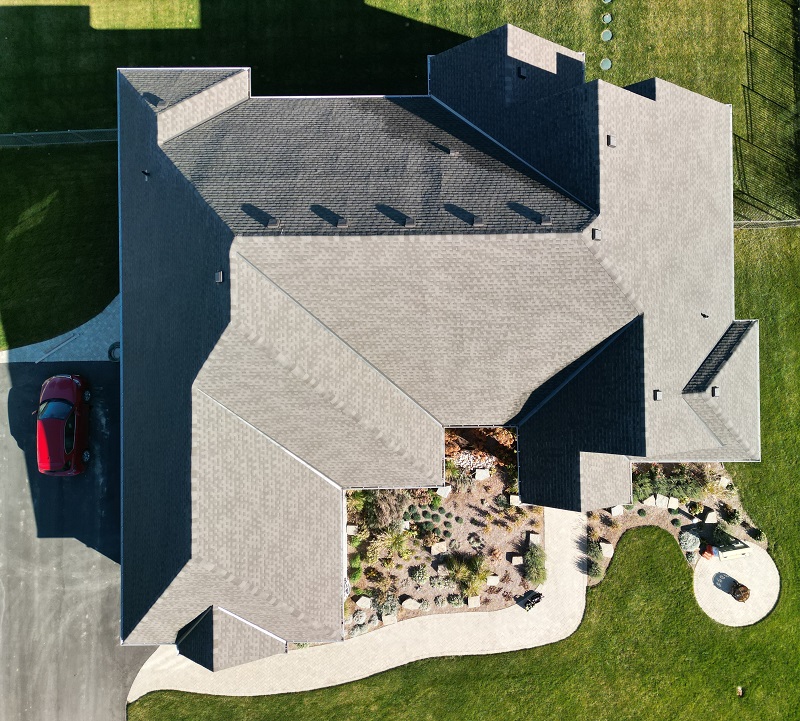 Roofs are notoriously difficult and hazardous to inspect. An inspection is particularly dangerous if a roof is steep, has moss growing on it, or has suffered fire damage. Cameras used on drones can capture very detailed images. Moreover, a drone can photograph the entire roof, including parts of the structure that aren't accessible to a human. Drones are also useful for inspecting damage to large structures, such as warehouses.
Another use for drones is property insurance inspections. Drones are particularly useful if the insured property is extensive or difficult to reach. For example, a crop insurer might use a drone to inspect a farmer's crops. Certain issues may be easier to spot from the air than from the ground. A drone's camera can be equipped with special lenses to detect problems that aren't visible to the human eye.
There are many benefits to an insurer when it comes to getting an aerial inspection: 
Images of the property to be insured can be obtained prior to providing coverage.
Claims assessors' safety is improved, and they can complete their work quicker when using a drone to inspect a building.
In case of a disaster or catastrophe, a drone can provide feedback on the extent of the damage long before the site is safe or accessible.
Turnaround time on claims can be reduced.
Drones may also be used to deter insurance fraud. When a disaster or other event occur, some policyholders file claims for damage that existed before the event took place. Insurers can disprove some claims by comparing drone camera images taken before the event with those taken after it has occurred.
Carson Dunlop The D'Andrea Team provides aerial photography and cinematography for any purpose, including landscaping, wildlife shots, sporting events, real estate photography, weddings or other special events, and even film and TV purposes. We work with you to understand your needs and deliver the high-quality aerial photos you need for your next project or event.
Our team can also provide aerial inspections for special-purpose buildings or structures, such as bridges, silos, cell phone towers, power lines, solar panels, or wind turbines.
Check out the links below for more drone resources and safety information.